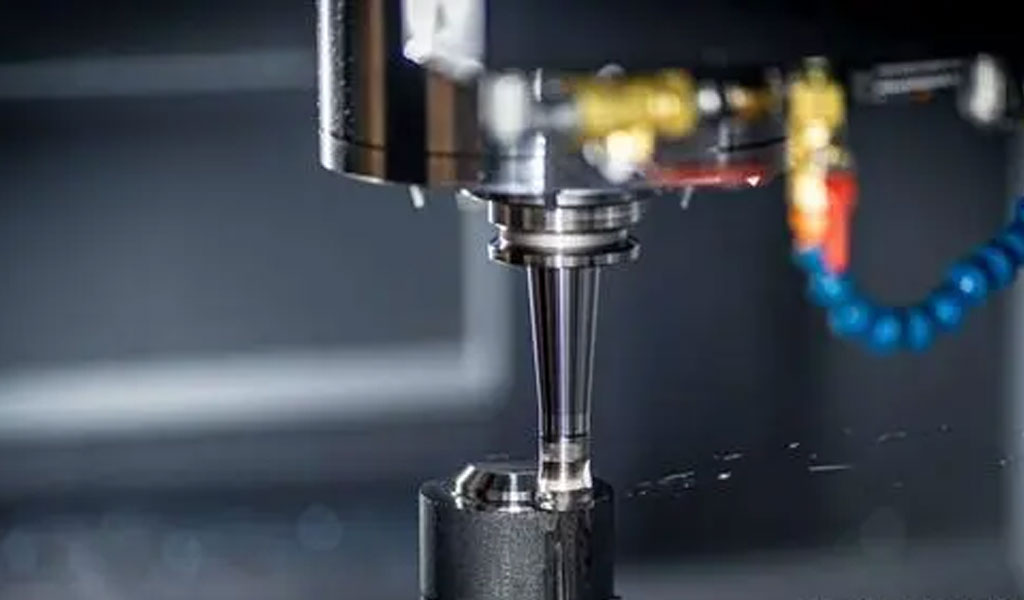 Numerical control technology refers to a technology that combines computer control technology with multiple disciplines such as machinery, electronics, and information to control equipment such as machine tools and construction machinery for automated, refined, and intelligent machining. It is one of the core technologies in the machinery manufacturing industry.
Numerical control technology realizes automatic management of machining technology through computer-controlled machine tools, uses pre-programmed programs, controls mechanical equipment to move on a specific path and performs machining, realizes the automation of the machining process, and stabilizes and improves the machining quality. With the development of intelligent manufacturing and Industry 4.0, CNC technology is constantly being updated and upgraded. The specific development trends are as follows:
Improvement of precision and efficiency: CNC technology will pay more attention to improving machining quality and reducing waste, while improving production efficiency to achieve high-efficiency and high-quality machining.
Intelligent development: With the rapid development of information technology, CNC technology will make more use of technical means in the field of automation to build an intelligent CNC machining system, such as using artificial intelligence, Internet of Things and other technologies to realize remote control of equipment and monitor.
Transformation and popularization: The development of numerical control technology is slowed down by some traditional enterprises. Therefore, transformation and popularization is a major trend in the future. The promotion of numerical control technology will enable more traditional enterprises to transform towards intelligent production models.
Enhance interconnectivity: CNC technology will pay more attention to the collaborative operation of CNC system and other automation systems, so as to realize the seamless connection of production process and improve production efficiency and precision.
Owing to its numerous benefits, CNC Machining is widely used in residential buildings, molds, auto parts, aerospace, shipbuilding and other machinery manufacturing industries. Under the background of so many years of global development, China CNC machining services are gradually improving, and the advantages of China's CNC machining technology:
The number of tooling is greatly reduced, and complex tooling is not required for machining parts with complex shapes. If you want to change the shape and size of the part, you only need to modify the part machining program, which is suitable for new product development and modification.
The machining quality is stable, the processing precision is high, and the repetition accuracy is high, which is suitable for the processing requirements of aircraft.
In the case of multi-variety and small batch production, the production efficiency is high, which can reduce the time for production preparation, machine tool adjustment and process inspection, and the cutting time is reduced due to the use of the optimal cutting amount.
It can process complex profiles that are difficult to process by conventional methods, and even process some unobservable machining parts. The disadvantage of CNC machining is that the machine tool equipment is expensive and requires a high level of maintenance personnel. What it controls are usually mechanical quantities such as position, angle, and speed, and switching quantities related to the flow of mechanical energy.
Due to this high demand, the CNC Machining industry has become very competitive.CNC Machining has realized the improvement of machining efficiency, the stability of product precision and quality.
Below, we will list some of the top CNC Machining manufacturers in the China.
Top 10 CNC Machining Manufacturers In China
---
1.
Wencan Die Casting 
Guangdong Wencan Die Casting Co., Ltd. researches and develops, produces and sells automobile aluminum alloy parts. Its products are mainly used in engine systems, transmission systems, undercarriage systems, brake systems, body structures and other automotive components in mid to high-end automobiles. The company was founded in 1998 and is headquartered in Foshan City, China.
Headquarters:Lot E. Of Heshun Li& Highway(Baimengqiao) Lishui Town Nanhai Dist,Foshan; Guangdong;
Website: http://www.wencan.com
2.
HLH Prototype
HLH Prototype started helping people make parts and products in 2008. HLH is a unique fusion of the West and East. Industry veteran and current CEO Vader Yu from China and James Murphy from the UK set up HLH to rival anything the industry had to offer in terms of quality and service and with the aim to become the fastest and most dependable in the world.
HLH Prototype have two locations in China – Shenzhen and Dongguan (both close to Hong Kong).Its 12000 sq/m (130000 sq/ft) high tech manufacturing facility is split across six dedicated manufacturing zones focused on delivering impressive metal, plastic, and composite rapid parts for a wide range of industries.
Building A, Hongfa Industrial District Houda Road, Daling Shan, Dongguan, Guangdong, China
Website: http://HLHPrototypes.com
3.
Tuofa CNC Machining
Tuofa CNC Machining factory provides comprehensive one-stop-shop metal parts solutions. From design, drawing, material selection, product cost accounting, production processing and assembly, inspection, delivery, after-sales, and other services.The factory is more than 3000 square, and we own 55 sets of CNC Auto Lathe Machines, 26 sets of CNC Milling machines, 22 sets of Swiss Type High-Speed Precision CNC Lathe Machines, etc.
107, Huanguan South Road, Longhua District, Shenzhen, CN, 518000.
Website: https://www.tuofa-cncmachining.com/
4.
PTJ Machining
PTJ is a well-known CNC Machining factory in Dongguan.China,It is committed to becoming a century-old enterprise in the industrial manufacturing field. Using advanced five-axis machining machines, ERP management systems tailored to the actual conditions of the plant, and completed ISO9001 certification, PTJ has the ability to complete the accuracy of any hardware parts processing. For the first time in the world, the "1 minute quotation, 1 hour on the machine" for non-standard structural parts has been realized, which has increased the manufacturing efficiency of structural parts by 50% and the profit margin by 10%. At present, PTJ is helping innovators around the world to turn products from drawings into Real thing, from prototypes to mass production products, helping companies grow from start-ups to industry giants.
PTJ's order tracking process can be monitored from the customer's process of submitting demand, salesman's quotation, order processing, workshop production, quality inspection and delivery, etc., which greatly improves the speed and quality of users' products.The average time to obtain parts has been shortened by more than 50%, while the price is 30% lower than the industry.PTJ's self-operated processing capability is also industry-leading, with more than 300 devices, more than half of which are imported.
Sifangyuan Industrial Park, Xinshapu, Huaide Community, Humen town, Dongguan City, Guangdong Province.
Website: https://www.cncmachiningptj.com/
5.
WayKen
Founded in Shenzhen, China, WayKen is a prototyping company and rapid manufacturer specializing in rapid prototyping and low-volume manufacturing of plastic and metal parts, providing a one-stop-shop from prototype to production.
With advanced manufacturing technology and a highly skilled team, WayKen has always maintained an excellent competitive advantage.
Penglongpan Hi-tech Park, Dafu Rd, ShenZhen, China.
Website: https://waykenrm.com/
6.
RapidDirect
RapidDirect provide on-demand manufacturing services from rapid prototyping to production. Equipped with advanced online quotation platform, RapidDirect efficiently brings your design to high-quality prototypes and parts that cater to specific requirements.
Room 407, Building F, Tianyou Chuangke Industrial Park,Qiaotou Community, Fuhai Street,Baoan District, China, 518103
Website: https://www.rapiddirect.com/
7.
Be-cu Prototype
BE-CU Rapid Prototyping Companies provides one-stop rapid prototyping services & volume manufacturing services. With years of manufacturing experience, our experts offer the best solution for all your rapid manufacturing needs.With a range of machines, we offering 5 and 3 axis,Laser Cutter,3D Printer,Sheet Metal Machine,Casting Machie,EDM,Injection Molding Machine,Forging Machine,Stamping Machine capability.
BE-CU Prototype 5 Axis CNC machining operation allows us to facilitate short lead times and competitive pricing on precision prototypes CNC machining and masters, and also for short-run needs, high request, and presentation models. We operate the latest software and machines manufactured by MAZAK And DMU, including part beds up to 84″ x 30, which includes processing continuous, smooth, and complex curved parts. Complex feature and contoured surface programming is handled with the latest version of Mastercam, a package that programs quickly and runs NC check to verify each setup and cutter path is accurate.
No. 1, Baiqi Science and Technology Park, Square North Road, Houjie Town, Dongguan City, Guangdong Province, China
Website: https://be-cu.com/
8.
Yijin Hardware
Yijin Hardware Co., Ltd. specializes in precision machining and provides OEM ODM services for various industries including aviation, electronics, furniture, military defense, health care, automotive, communication, racing cars, new energy, and infrastructure construction (such as high-speed train and bridge). Located in Shenzhen, a young city in China, Yijin Hardware combines quality workmanship and superior knowledge with reasonable prices to guarantee on-budget products and on-time delivery. Based on its exceptional standards, Yijin Hardware has got a lot of experience in providing cost-effective professional services for both private companies and governmental agencies for 20 years, with a real focus on customer satisfaction.
Yabian Community, Shajing Street, Baoan District, Shenzhen, China
Website:  https://yijinsolution.com/
9.
V1
Since 2006, V1 Machining Manufacturer Team Has Succeeded In Understanding The Needs Of The Industry And Creating Reliable Products To Serve Them All.
V1 Machining Manufacturer is the site for V1 INDUSTRIAL GROUP in China. V1 Machining currently have 16 years of experience in the industry and are a professional manufacturer of precision mould parts, large die parts and various mechanical parts in China. The industries we serve cover moulds, automotive, medical, aviation and military, machinery and equipment, etc.
With high quality management systems such as ISO 9001:2015, ISO 14001:2015 and IATF 16949 certification, ensuring a high level and high precision of parts.
NO.10 Lianhu Road, Changan Town, Dongguan City, Guangdong Province, China, 523850
Factory Address: No.38, Hexing Road, Shatou, Changan Town, Dongguan City, Guangdong Province, China, 523850
Website:  https://V1.com/
10.Minghe Die Casting Company
Minghe Die Casting Company are dedicated to manufacture and provide quality and high performance Die Casting Parts In China,Round Service(Die Casting Service,Cnc Machining,Mold Making,Surface Treatment).Under the control of ISO9001 and TS 16949,All processes are carried out through hundreds of advanced die casting machines, 5-axis machines, and other facilities, ranging from blasters to Ultra Sonic washing machines.Minghe not only has advanced equipment but also have professional team of experienced engineers,operators and inspectors to make the customer's design come true.
102,No.41,Changde Road,Xiaojiejiao,Humen Town,Dongguan,China
Website: https://www.diecastingcompany.com/
Final Thoughts
---
The CNC Machining industry is one of the largest and most promising markets in the world today. It has been skyrocketed by the world's need to find greener solutions to lighting. CNC Machining produce very little heat and radiation and hence are the best fit to replace manual or metal printing.
Due to the low costs of production and technological advancement seen in China, it is expected that China-based CNC Machining manufacturers will dominate the industry. This competitiveness aids in promoting better and more highly efficient CNC products.