With the advent of the era of intelligent manufacturing, various industries have higher and higher requirements for laser cutting pipe processing quality and craftsmanship. The traditional laser cutting pipe processing technology is not only inefficient, but also the cutting effect is very rough, which is easy to cause a lot of pipe waste. The use of advanced laser processing technology to cut various metal pipe fittings will have incomparable advantages such as high efficiency, fast speed, excellent cutting quality, and high material utilization.
The core technology of laser tube cutting machine has developed fully automatic laser tube cutting machine, heavy tube laser tube cutting machine, small tube laser tube cutting machine, groove laser tube cutting machine, and economical laser tube cutting machine, and continuously improving product reliability , Including metal plate, pipe material processing and striving to innovate products, providing a complete set of solutions, realizing different feeding lengths, different pipe diameters, different shapes of feeding, laser cutting forming, blanking and other automatic CNC functions . Han Laser has obtained nearly 100 technical patents in the field of tube cutting technology, and successfully developed tube processing technologies such as rapid cutting flying tube cutting, small tube high-precision cutting, and bevel cutting. With its outstanding value and creativity, it has been highly recognized by users.
Automatic laser pipe cutting machine
P6018d automatic laser pipe cutting machine is a pipe processing equipment that can automatically realize all the actions and functions of feeding, laser cutting, and blanking. It can cut and process square tubes, rectangular tubes, round tubes, elliptical tubes, special-shaped tubes, angle steel, channel steel, I-beam, T-shaped steel and other profiles; it can cut carbon steel, stainless steel, aluminum alloy, copper alloy, titanium alloy and other metals The pipeline is at high speed, and has professional characteristics, high-speed, high-precision, high-efficiency, and high-cost performance. It replaces the traditional sawing and punching methods. This is a new pipeline processing technology. No matter how complicated the part graphics on the pipe is, the product can be processed with high precision, realizing one-time cutting without the need for subsequent deburring. In addition, the loading, clamping, rotation, cutting, loading, cutting, and cutting of the workpiece are automatically completed by the machine tool, which reflects the fully automated characteristics of the product and greatly improves the user's production efficiency.
Application of laser technology in pipe cutting
The automatic laser cutting machine is advanced in operation, convenient in automation, high-speed and high-precision cutting, suitable for mass production and industrial production. Has become a product of the equipment management industry. It is widely used in petroleum pipelines, construction machinery, passenger car manufacturing, locomotive manufacturing, agricultural and forestry machinery, special automobiles, fitness equipment, household appliances manufacturing, laser garment manufacturing, and other fields. Serving other machinery manufacturing pipeline processing industries.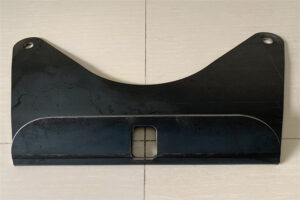 Heavy-duty laser pipe cutting machine
P10018d is a 10-meter long super-long heavy-duty pipe cutter. It can process metal pipes with a cross-section range of 20-180mm. It can realize automatic and stable feeding, cutting and unloading of 200kg pipes.
Application of laser technology in pipe cutting
P10018d heavy-duty laser tube cutting machine inherits the technical advantages of Dahan Laser in the field of laser tube cutting equipment, and continuously develops and innovates on the precipitation of existing technologies. The host, chuck, feed, and fully enclosed blanking are all new designs; low-noise feeding methods; according to the special needs of customers, we have carried out special customized designs, and have improved the noise of pipeline loading and unloading, workpiece transportation, and laser protection In other aspects, it effectively protects the surface quality of the workpiece, reduces the labor intensity of the operators, improves the operating environment, meets the personalized requirements of customers, and achieves full coverage of all pipeline processing in the passenger car industry.
Plus1 laser tube cutting machine
The equipment has the advantages of high precision, good consistency, clean cutting section, and no burrs. Compared with the traditional complex process, the production cycle is greatly shortened, and low-end processing links such as sawing, drilling, punching, and deburring are eliminated, which greatly saves manpower, raw materials and site costs; at the same time, it saves intermediate logistics links , Lays a good foundation for the automatic welding of subsequent workpieces; greatly improves the welding efficiency and quality, and also improves the beauty of the welding surface.